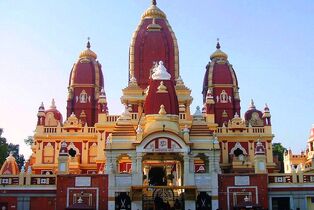 The Brila Mandir is a Hindu Temple located in New Delhi, India. It is a very large structure that is one of the most important Hindu Temples in India. It is a unique structure to the Hindu religion and it is also very big in size. It was build in 1938 and it was showing how any caste can go in.
About this Temple
Edit
This temple is here to honor the Indian God Vishnu.
This tempale is located in New Delhi, India located just off Connaught Place, an area in New Delhi. It is in a well preserved area and it is in good hands where it is standing right now. Plenty of people visit everyday to this place.
Ad blocker interference detected!
Wikia is a free-to-use site that makes money from advertising. We have a modified experience for viewers using ad blockers

Wikia is not accessible if you've made further modifications. Remove the custom ad blocker rule(s) and the page will load as expected.